SAP Business One Demonstration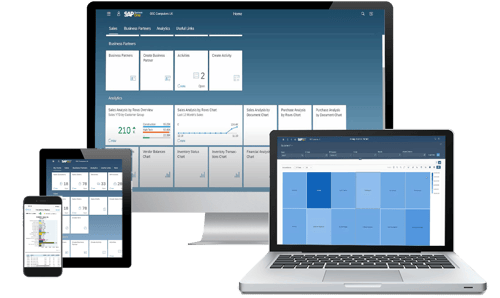 Take a closer look at SAP Business One with our system experts. See how you can manage your entire organisation in this all-in-one business management system. Arrange a free, no-obligation demo today or call Tim on 01 697 1818 to find out more.

Why SAP Business One from SEIDOR
Affordable | Scalable | Flexible
SAP Business One is the perfect ERP solution for any type of growing Irish organisations. Choose from our range of flexible deployment options and transform the way your company works. Control your entire business and integrate different departments to work within a centralised application. Manage everything from finances, warehouses, production, sales and customer relationship management and much more in real-time. Take a tour now and see how SAP Business One can quickly solve the biggest challenges in your organisation.
What's Included in the demo?
An overview of the different solution features

See how SAP Business One works in your industry

Discover how the solution will benefit key personnel and stakeholders

Find out more about our award-winning SAP Business One services and support
Find out more about SAP Business One from SEIDOR
At SEIDOR, we tailor our demonstrations to show you how the solution will benefit your organisation and help you address any existing challenges. We'll happily visit you in person to show you the solution and discuss its capabilities. Alternatively, we can set up an online demonstration if it's more convenient. Our team will always work around your requirements.

Simply complete the form above and we will contact you to arrange a convenient time for your demo or contact one of our SAP Business One solution experts today to find out more.